---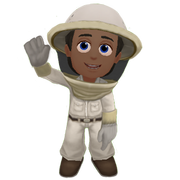 A Bee Box is a Building in FarmVille 2, available for a limited time, until ?th of ? 2013. After placing the Bee Box, some building materials are needed to finish the Building.
Depends upon how many friends you have some of the materials filled already(low -> max fill(9), max -> low fill(0)), After that maximum 4 neighbors are needed to finish the Butterfly house. The required number of builders depends upon how many neighbours you have. For example If you have more then you need 4 builders, if you have only 5 neighbours then only 1 builder required and remaining 3 pre-filled.
Harvest crops to collect Pollen. Crop Packets produce more Pollen. Fill

 10 Pollen to tend the Bee Box and chance to get a Honeycomb. To collect all Honeycomb to collect a

Honey Bee Hive from Walter. And also collect all 5

Honey Bee Hive to win a

Beekeeper Suit.
Honeycomb
| Chance | Reward |
| --- | --- |
| 65% | Amber Honeycomb |
| 25% | Orange Honeycomb |
| 10% | Golden Honeycomb |
Every 18 hours you can feed the Honey Bee Hive with

Honey, then click that

Honey Bee Hive to fertilize (up to) 4 crops by clicking the crop.
Player tip: If you want to save space, you can place 

Honey Bee Hive on crops!
Ad blocker interference detected!
Wikia is a free-to-use site that makes money from advertising. We have a modified experience for viewers using ad blockers

Wikia is not accessible if you've made further modifications. Remove the custom ad blocker rule(s) and the page will load as expected.