A Cauldron is a decoration in FarmVille2 which was used during the Halloween 2012 event Monster Mayhem to complete some quests.
This item therefor was a limited time decoration.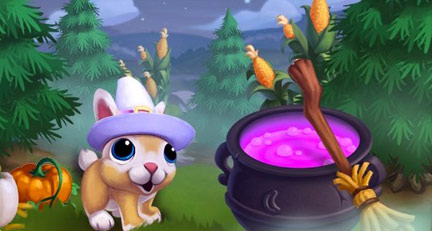 How to Build it
Edit

The Cauldron is needed to earn be able to recieve a Witch Bunny. During the Halloween 2012 event, the magic Cauldron could be placed on the farm for free, after that it required some materials to finish it.
Complete the Cauldron
Edit
The first step is collecting building materials. The materials can be recieved by asking your friends, or made yourself.
Once you have collected the required items, click on the "Start Building" button at the bottom of the construction Menu. In addition to the materials, you will need to request the following help from 4 of your Neighbors as builders of the Cauldron. You can also hire 1 friend for

 1 Farm Bucks.
Ad blocker interference detected!
Wikia is a free-to-use site that makes money from advertising. We have a modified experience for viewers using ad blockers

Wikia is not accessible if you've made further modifications. Remove the custom ad blocker rule(s) and the page will load as expected.