---

The Deer Nest is a Building in FarmVille 2, released on April 9th, 2013. After completing several tasks, you will be rewarded with an exclusive deer, the White-Tailed Deer.
The building quests remains until 24th of April 2013. The player gets this Building for free, but some building materials are needed to finish the Deer Nest.
Then 4 Neighbors are needed to hire for constructing the Deer Nest. Depending on your own amount of neighbors, you may get some filled in already.
For a visual presentation of the build process, click here
What to do
Edit
There are a number of quests (12 in total) which the player has to successfully follow in time to be able to acquire a free baby White-Tailed Deer. You only can get 1 for free.  The adult deer costs 

 30 Farm Bucks.
Once you completed the tasks, you can store the Deer Nest in inventory to free up the space again or leave it as decoration on your farm.
Pictures of the Deer Nest building process
Edit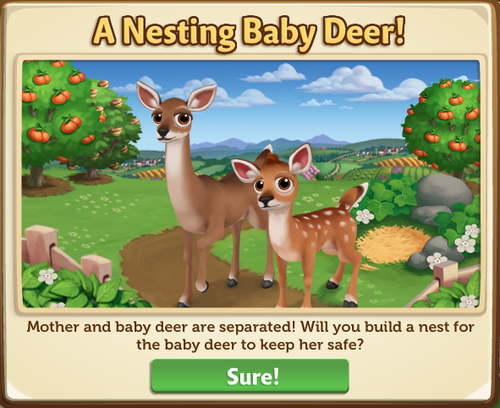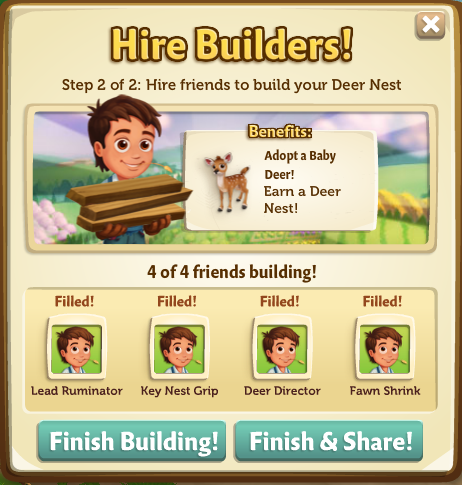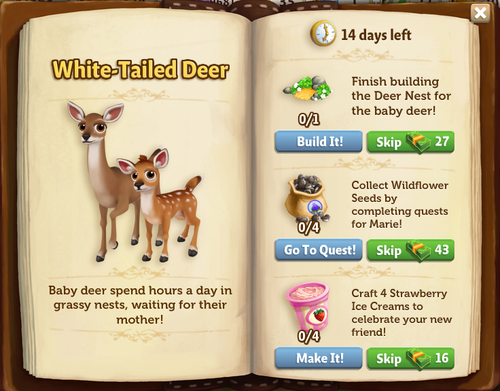 Ad blocker interference detected!
Wikia is a free-to-use site that makes money from advertising. We have a modified experience for viewers using ad blockers

Wikia is not accessible if you've made further modifications. Remove the custom ad blocker rule(s) and the page will load as expected.