This is part 2/4 of Fertile Mind quest series
Fertilizer Forte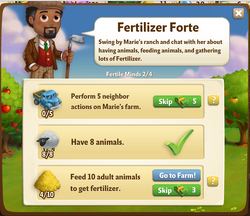 Details
"You catch on quick, but we know that already. Won't be long before you're giving me a run for my money!"
Requirements
Edit
Perform 5 neighbor actions on Marie's Farm
Have 8 animals
Feed 10 adult animals to get fertilizer
Walkthrough
Edit
Next Quest: 
Ad blocker interference detected!
Wikia is a free-to-use site that makes money from advertising. We have a modified experience for viewers using ad blockers

Wikia is not accessible if you've made further modifications. Remove the custom ad blocker rule(s) and the page will load as expected.