Super Feed
, sometimes called "Speed Feed," instantly re-feeds your animal so the player does not have to wait to feed them again. Using one Super Feed instantly feeds the animal the equivalent of three times, and the player will obtain three times the animal products instantly. No normal feed is used. This can also be used as a method to Prize an animal quickly.
How To Obtain
Edit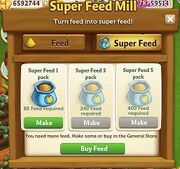 Ad blocker interference detected!
Wikia is a free-to-use site that makes money from advertising. We have a modified experience for viewers using ad blockers

Wikia is not accessible if you've made further modifications. Remove the custom ad blocker rule(s) and the page will load as expected.