---
A Spinning Wheel is a Building in FarmVille 2 that produces

 Spun Yarn with the help of Sheep and Rabbits.
After placing the Spinning Wheel, some building materials are needed to finish the Building.
After that 4 Neighbors are needed to hire for constructing the Spinning Wheel. 2 of them are already filled in. For visual presentation of the information, click here.
Spin Yarn Production
Edit
Once the Spinning Wheel is been built and there are at least 3 adult Wool producing Animals such as Sheep and Rabbits, they give in addition to
 Wool and

 Milk some
 Spinning Wool after being fed. As soon as the Spinning Wool Bar reached 25, the Spinning Wheel can be clicked to get

 10 XP and

 3 to 6 Spun Yarn:
Spinning Wheel
The player yields one Fine Yarn Ball as long as there are at least 10 Wool producing animals (can not be prized). If there are less then there's only a chance to get the Fine Yarn Ball. It can be a Fine, Super-Fine or Premium Yarn Ball one:
Fine Yarn Balls
| Chance | Reward |
| --- | --- |
| 65% | Fine Yarn Ball |
| 25% | Super-Fine Yarn Ball |
| 10% | Premium Yarn Ball |
If the Spinning Yarn Collection consisting of
 6 Fine Yarn Balls,

 4 Fine Yarn Balls and
 2 Premium Yarn Balls is completed, the player wins the exclusive Manx Loaghtan Sheep.
If for some reason you are having trouble locating the spinning wheel, go to your workshop and click on 'yarn' and 'make'. It should prompt you to build your spinning wheel.
Wool producing Animals
Edit
Each Wool producing animal produces a different number of
 Spinning Wool. Rabbits produce the same number of
 Spinning Wool as they produce
 Wool, whereas the
 Spinning Wool produced by Sheep are 2 times greater than the given
 Wool:
Pictures of the spinning wheel build process
Edit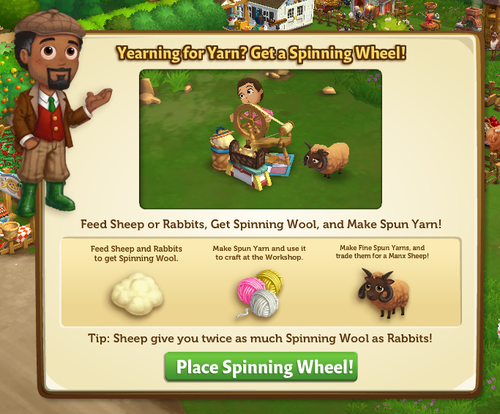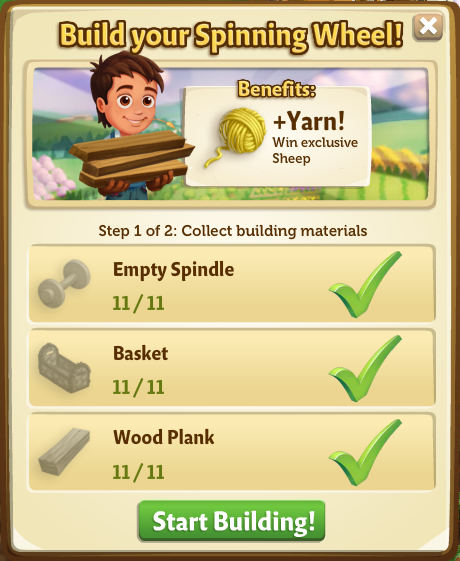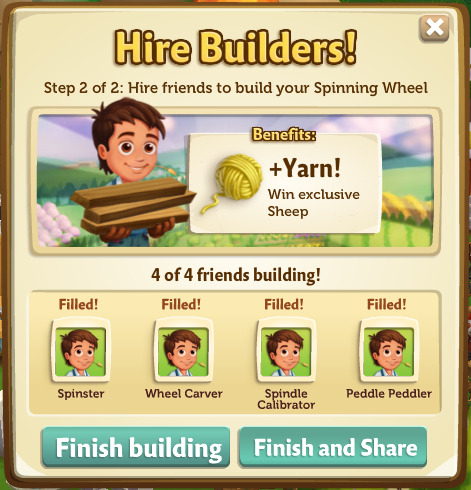 Ad blocker interference detected!
Wikia is a free-to-use site that makes money from advertising. We have a modified experience for viewers using ad blockers

Wikia is not accessible if you've made further modifications. Remove the custom ad blocker rule(s) and the page will load as expected.